Book launches aren't Hell, I swear – it's the title of the book. Yet, four months before I released See You in Hell (before I'd even finished writing it), I was already marketing the book.
I read David Gaughran's Let's Get Visible and Sean Platt and Johnny B Truant's Write Publish Repeat as I was writing a new paranormal romance series about angels and demons. I'd spoken to several successful romantic suspense authors (Pepper Winters and Victoria Ashley) about their book launch techniques, as well as Carl Sinclair and Darren Wearmouth, so I figured I'd put all their tried-and-true launch tactics into one kick-ass launch strategy.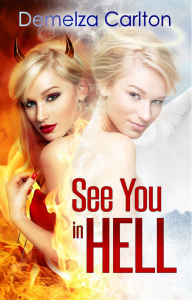 Four months before release, I started posting short snippets from the books on my web page – once a week – and writing one or two blog posts a week on my research for the book. I continued right through the launch and the following month.
Two months before release, I published a 5000-word short story prequel to the series (Welcome to Hell), which I made available free across all platforms. While not required reading before See You in Hell, it gave readers a taste of the characters, the setting and the style of the series. Oddly, this short story has the lowest overall star rating of any of my books.
I booked three blog tours for the book with Literati Author Services, CBB Book Promotions and Dark Scream Tours. The first two were review-only tours over 1-2 weeks in May and the third was a promo tour over 8 weeks in June and July.
A month before release I sent out ARCs to the blog tour organisers and anyone else who'd expressed an interest in receiving an ARC. All up, I think I gave out around 100 ARCs.
At this point, I started booking advertisers for launch week, as recommended by Carl and Darren. This was based on a strategy of getting as many early reviews as possible and advertising the book for 99c in as many places as would take it.
I chose advertisers based on three factors:
Recommendations from Darren, Carl and other authors on the Self Publishing Roundtable podcast;
Whether they advertised to an email list or just on their website. Email marketing is more effective than the other sort, so any small advertiser with an email list made MY list;
My own experience with advertisers for my other books.
Most advertisers accepted my listing; two which didn't list my book were Booksends and Kindle Books and Tips. That's why they don't appear on my advertising schedule, though they're both effective advertisers that I'd like to work with for future promotions.
When I started booking ads, I realised that some of them couldn't post in the first week of the month, but they could later on. I'd intended to keep my book at 99c for the first six weeks, so I scheduled the ads across the month as the advertisers got back to me. I wanted a concentrated set of ads for the first week, then an ad every 2-3 days for the rest of the month. In the end, I had daily ads for the first 11 days – but my best sales were in Week 2.
The ads I booked and the days from release day are summarised in the table below:
| | |
| --- | --- |
| Day | Advertiser |
| 1 | What to Read After Fifty Shades of Grey (WTRAFSOG) |
| 1 | Contacted my mailing list |
| 1 | Momma Says Read |
| 1 | Awesomegang |
| 2 | Goodkindles |
| 2 | Bargainbooksy – paranormal/fantasy list |
| 2 | Eat Sleep Write cover ad |
| 3 | Bestbook ereader lovers |
| 3 | Ebook Bargains UK |
| 3 | Awesomegang email subscribers |
| 3 | World Literary Café 99c Fridays |
| 3 | Flurries of Words |
| 4 | Pixelscroll – emailed out for two days |
| 5 | Kindle News Daily/Book Gorilla (3 day ad for KND; 1 day ad for BG sent out on Day 5) |
| 5 | Ereader Café Daily Spotlight |
| 6 | Paranormal Radio Interview |
| 6 | SweetFreeBooks |
| 6 | Masquerade Crew Ad |
| 6 | Bloggers on FB |
| 7 | Digital Book Today |
| 8 | I Love Vampire Novels |
| 8 | Storyfinds Author Spotlight |
| 9 | WTRAFSOG |
| 9 | Korner Kafe Exposed |
| 9 | Fussy Librarian |
| 9 | eReader Utopia Featured |
| 10 | Ebookbooster |
| 11 | Ereader News Today |
| 13 | The Kindle Book Review 2 week 99c Bargain book listing |
| 13 | Pixelscroll and Bargain ebook hunter – emailed out for three days |
| 16 | Bargainbooksy – romance list |
| 16 | Choosy Bookworm |
| 17 | The Kindle Romance Review |
| 19 | My Romance Reads |
| 20 | WTRAFSOG boosted post |
| 22 | Bestbook ereader lovers |
| 23 | KND/Book Gorilla Kindle Fire Book of the Day |
| 24 | Read Cheaply |
| 25 | People Reads |
| 27 | Book Enthusiast Joint Promo |
| 30 | Ereader Café Deal of the Day |
I was impressed at how professional all the advertisers were – as I didn't have the Amazon sale links until the book was live, I had to email some of them bare hours before the ad went live. This didn't seem to faze anyone – all of them had the correct Amazon links, no worries.
I submitted the book to Story Cartel, offering free copies for reviewers. I also paid for their email advertising package. Around 50 people downloaded the book; I believe 5 of them reviewed it. It may have been more.
Thanks to ARC reviewers and blog tour hosts, See You in Hell had 11 reviews on Amazon.com on launch day – Day 1. More reviews were posted over the course of the month, with 37 on Amazon.com by Day 30.
Sales were fun to track, but it was difficult to attribute the sales to a particular advertiser, given sometimes there were several advertisers a day and the effect of each advertiser might be spread across several days. See You in Hell was made available at Amazon, Kobo, Smashwords, iTunes and Barnes and Noble on release day (it's now on Google Play, too, but it wasn't in the first month), these sales figures are total books sold across all sales channels.
| | |
| --- | --- |
| Day 1-7 | 199 |
| Day 8-14 | 380 |
| Day 15-21 | 299 |
| Day 22-30 | 225 |
Total books sold over the 30 days was 1170 copies – more copies than I'd sold of ANY of my other books to date, some of which have been out for over a year.
Total cost for blog tours and advertising is approximately US$1600 and sales have continued over the following month, with the sequel, Mel Goes to Hell, due out on 30 July, three months after the release of See You in Hell.
Would I launch a series like this again?
Yes. I might not release the free prequel short story, but I'd definitely post research and excerpts as early as I did. I'd also seek early reviews and blog tours. I'd definitely launch at 99c again. I'd probably use fewer advertisers, as some seemed more effective than others, but this is also very genre specific. Paranormal romance and satire don't appeal to everyone.
All in all, for me, it was one Hell of a launch. And I mean that in the best way possible.
____________________________________________________________________________________________
I want to thank Demelza for coming on to the blog and sharing her results.
The 99c is becoming quite a popular one after several authors have found it an effective way to launch (or re-launch) a book without a huge reader base behind them. It should be clear that these launches aren't about making a ton of royalties.
It's about getting a lot of visibility on the book and building up readers for the rest of the series (either via the mailing list or directly into book two of the series)
You are more likely going to lose money on the initial launch, but it's a long term plan to build your series and brand and garner a lot of readers quickly. – Carl Sinclair