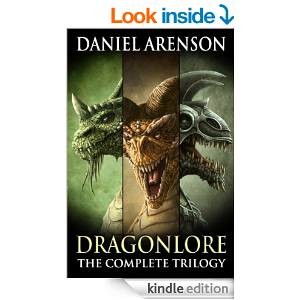 First of all, thank you for coming on the blog and congratulations on all your success.  
For those that don't know your work, tell us about your books?
I write epic fantasy novels. Four of my trilogies–Dawn of Dragons, Song of Dragons, Dragonlore, and The Dragon War–are set in Requiem, a world where people can magically turn into dragons. I'm also the author of Moth, an ongoing series about a world torn in two–its one half in eternal daylight, the other half always dark. You can learn more about my work on my website: www.DanielArenson.com
How easy or hard has it been to get visibility and build a name in your chosen genre?
It was a slow process. My first few novels didn't sell very well. But book by book, more readers found my work and remembered my name. With every release, I try to grow my group of dedicated readers. It took a couple years of serious writing until I was selling well enough to become a full time author.
What is the most successful promotional strategy you've used?
Writing the next novel! Each novel is new exposure, a new chance for readers to see my work. More than advertising, social media, or anything else, being prolific has helped my visibility. I released six full length novels last year, and I'm on track to release six this year as well.
Do you have a mailing list, and if so, what do you do to grow it?
I do have a mailing list. To grow it, I offer readers a free novel when they sign up. I'm hoping they like the novel enough to buy more in the future. I include links to my mailing list in the backs of all my ebooks.
What is one unsuccessful promotion tactic that you'd never try again?
Before ebooks became so popular a couple years ago, a small traditional publisher released one of my novels in hardcover. Since this was a physical book, I promoted it offline. I handed out bookmarks, I attended book fairs, and I walked from bookshop to bookshop, trying to convince the owners to stock the book. It was hard work and barely yielded any results. To this day, I avoid promotions offline. I haven't done anything involving bookmarks, flyers, book signings, or anything offline since.
Do you have any advice on how to get more reviews for your books?
I know that some authors go to great lengths to receive reviews. They'll send out copies to bloggers, they'll go on NetGalley, and they'll actively pursue fans for reviews. I don't do any of that anymore, since it's so time consuming. I just include a polite request for a review in the back of my novels. Reviews in general are rare; I'd estimate that only about 1-2% of readers actually leave reviews.
What do you know about self publishing now that you wish you knew when you first started out?
That it's easier to sell series. My first three ebooks were standalones and they barely sold a thing. Only once I started releasing series did I see my sales improve. I wish I had known to write series from the get go!
How has Free worked for you, and do you have more plans to incorporate free stories into your marketing plain in the future?
I currently offer two free ebooks on Amazon. Both are series openers. Not all readers are willing to pay to read a novel by an author they don't know. Freebies are a great way to get them started. If they like the free novel, I'm hoping they'll pay to read the sequels.
What advice would you give to writers that are either just starting out and/or are struggling to get sales?
Focus on writing well and writing a lot. If you're prolific, and if your stories are entertaining, you'll find success. Everything else–how to advertise, how to format, how to improve your blurbs and covers–that's all stuff you pick up on the way. Just write really well and really often.
What does one of your typical book launches look like–blog tours, giveaways, etc…?
My launches are pretty simple. No blog tours or anything fancy. I'll post a link on my website. I'll announce the novel on Facebook and Twitter. And I'll send out a mailing list. That's it. Within an hour, I'm already writing the next book!
You have been a part of a number of multi author promotions and boxed sets.  How have they worked out for you, and how did you publicize those sets and promotions?
I've recently been part of two box sets released by Steel Magnolia Press. It's a lovely publisher that did a fantastic job promoting the bundles (they really did most of the work). Both box sets have worked out well, and all the authors involved gained some nice exposure.
Do you have any advice for finding success on other platforms such as Barnes & Noble, Apple, and Kobo?
Barnes and Noble and Kobo each account for about 10% of my sales. I try to promote links to them wherever I'm posting the Amazon links. I don't sell much on Apple and wish I knew more about how to reach readers there.
What can we expect from you in the future?
Very soon I'll be releasing Requiem's Hope (Dawn of Dragons, Book II), the sequel to my novel Requiem's Song. Not long after that, I'll be releasing Shadows of Moth (The Moth Saga V). Keep an eye open for them!
Check out Daniel's books HERE.