Podcast: Play in new window | Download
Subscribe: Apple Podcasts | RSS
TS Paul published his first eBook mid-February of this year. It was the first in his Athena Lee Chronicles, a short form sci-fi serial, which he followed up with a second book just two weeks later. Since then he has released one eBook every two weeks. The length of each instalment varies wildly from 34 – 148 pages and he's charging $2.99 a pop! What's even more interesting is that they sell!
So of course we had to invite him over to the podcast to tell us how he does it, why he does it and what he plans to do next.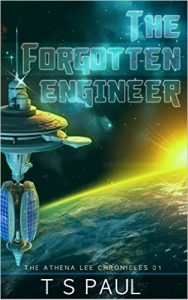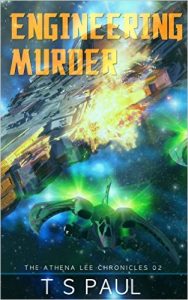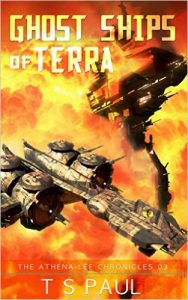 About our guest
TS Paul was born in 1968 in Mineral Wells, Texas. He has lived all across the country: Alabama, Georgia, Florida, Texas, Alaska, and finally Missouri where he currently lives with his wife outside of St. Louis. Before becoming a writer, he worked as a Disc Jockey, bookstore manager, cook and bowling alley attendant. He also has a Telecommunication degree and a Culinary degree. Gardening and cooking are his passion but he has always been a HUGE fan of Science Fiction / Fantasy and he brings his love of the genre to his writing. And it was only this year that he put fingers to keyboard and published his first ebook.
Questions and topics discussed:
Tell us a bit about yourself

What genre you write

Are you still able to meet your 2 weeks deadline?

How'd you do your covers?

Let's talk about monies

What is your writing process that allows you to release on a two week cycle?

Tell us a bit about the universe

Why you don't worry about reviews

His strategy for grabbing readers with hot covers and getting into the story quickly

What are the lengths of your books?

Does he have a day job?

How did you find out your audience is mostly women?

Do you care about number of reviews?

On not advertising with Bookbub but listing with them

Where did you do your giveaway? Facebook

How do your readers feel about the length?

How did #1 in the small niches help you sell more books?

Now that you have more books, how have the review changed?

Many of your reviews are about the length being too short or editing issues:

Has this affected your sales? How?

Philosophy: Get the money

Sales today: 45 sales

DISCUSSED SALES NUMBERS

KENPC doing better than new sales today

Over a million and a half pages read since February.

"The short fiction market is wide open for anyone who wants to get in."
Links and mentions:
If you have a second, an iTunes review would be VERY appreciated!
Join us next Thursday 7pm PST / 10pm EST
when we chat with Demelza Carlton