Podcast: Play in new window | Download
Subscribe: Apple Podcasts | RSS
On December 7th 1941, hundreds of Japanese fighter planes carried out a devastating surprise attack on the American naval base at Pearl Harbor in Hawaii and changed the face of World War II.
Last month eight authors published the anthology: Pearl Harbor and More: Stories of WWII-December 1941. We invited some of those authors on to talk about writing World War II fiction and the diverse stories they included in the anthology.
Due to a confusion with recording time we ended up recording twice. The first part is with Marion Kummerow, R.V. Doon and Robyn Hobusch Echols, while the second part is with Alexa Kang. All are authors from the anthology.
Part 1


Part 2

The stories and authors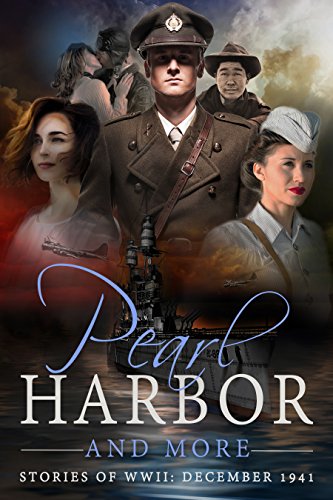 Deadly Liberty by R.V. Doon: Connie Collins, a navy nurse on the hospital ship, USS Solace, takes liberty the day before Pearl Harbor. Her budding romance wilts, an AWOL nurse insists she find a missing baby, and she's in the harbor when WWII erupts. Under fire, she boards the ship–and witnesses a murder during the red alert chaos. When liberty turns deadly, shipmates become suspects.
Christmas Eve in the City of Dreams by Alexa Kang: On his last night in New York, a young grifter sets out to turn the table on those who shorted him before he leaves for the draft. Will he win or lose?
Turning Point by Marion Kummerow: Eighteen-year-old German Jew Margarete Rosenbaum is about to be sent to a labor camp, when a bomb hits the building she lives in. Emerging from the rubble she's presented with an unexpected opportunity. But how far is she willing to go to save her life?
I am an American by Robyn Hobusch Echols: Ellen Okita and Flo Kaufmann are high school seniors in Livingston, California. Ellen is a first generation American who lives in the Yamato Colony, composed of about 100 families of Japanese descent. Flo's father is a first generation American. After Pearl Harbor, the war hits home fast and brings unforeseen changes to them and their families.
Questions and Topics Discussed:
How accurate do you feel yours stories are?

Do you sacrifice accuracy for plot or vice versa?

Are these stories introducing or leading to other books?

What is it about what you write that keeps you interested in this subject that you believe stands out from the ocean of books already out and keeps your readers engaged?

How did this anthology come together?

Other than your own story whose story do you like in the anthology?

How do you market historical fiction, who are you marketing to?

What advice would you give someone interested in writing historical fiction who haven't written it before?

Aside from what you're doing for this anthology can you tell us a little about your universe and the books you write?

Marion talked a bit about the every-day germans of the time.

Robyn talked about her other books in sci-fi, western romance and WWII

R.V. talked about bringing her nursing background and mysteries into historical fiction

Have any of you been to WWII museum in New Orleans, Louisiana or any other WWII museum?

What would be the one thing you would want people to remember about WWII?
Links and mentions:
If you have a second, an iTunes review would be VERY appreciated!
Join us on Thursday @ 7pm PST / 10pm EST
when we chat with Bob Mayer (hopefully)