It has been over three years since the Self-Publishing Roundtable was first founded and blasted across the internet–Happy Belated Birthday to us!
We've had many different hosts and producers over that time but we've been doing things pretty much the same way since episode 11. So, we thought it way past time for us to survey you (our listeners / viewers) and find out what you think of the show, who your fave host is and if you have any suggestions for us. Your feedback will be invaluable and will help us shape the future of SPRT, ensuring we continue to be awesome or even more awesome!
And there is no way you can resist Survey Cat. Look at that serious widdle face! He's totes adorbs!
To complete the survey (which we promise will be quick and painless) click on the little Survey Cat below.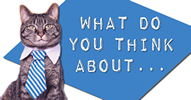 Please feel free to share Survey Cat's survey with your friends and fellow SPRT listeners / viewers. Just click on the links below and share / retweet on the social media of your choice.
Thanks heaps! We cannot do this show without you.
Cheers 🙂
The SPRT Team